Henry Hyde Wargaming Author - Wargaming Recon #119
Download
(1121)
THIS IS THE FIXED VERSION. PLEASE DOWNLOAD THIS VERSION OF EPISODE 119 AND NOT THE OTHER. WE REGRET THE ERROR.
Henry Hyde comes back on the show for his third appearance. Henry talks about his book the Wargaming Compendium, wargaming, and what he's been up to.
In a special segment after the show Henry and Jonathan discuss Jonathan's Ancient Rome inspired imagi-nation campaign the War of Latinian Expansion. Jonathan is blending computer gaming with traditional tabletop gaming.
He used the Plastic Soldier Review website to choose his 1/72 scale HaT Industrie models and 1/72 scale Caesar Miniatures. The HaT models cost under $10 USD for almost 50 infantry from the Hobby Bunker in Malden, Mass (or their online storefront). Caesar Miniatures' boxes are only slightly higher at $11.95 for 40+ infantry also from the Hobby Bunker.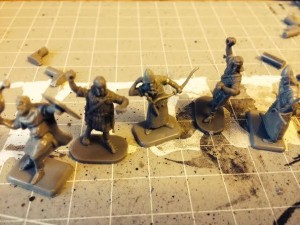 During the show Jonathan mentions the controversial Episode 113: Are Painted Minis Essential to Miniatures Wargaming? and Henry surprises Jonathan with his thoughts on the topic.
Before the show concludes Jonathan makes a VERY IMPORTANT ANNOUNCEMENT. His wife and he are expecting their first child! The baby is due the beginning of February 2015. Jonathan looks forward to having a little one to introduce to the hobby.